We have made it through what usually is the most turbulent time of the growing season, June, and are now well into the first half of July. The crops are maturing and entering the reproductive stage of growth. Corn in this area is beginning to tassel and silks are emerging. Soybeans began flowering around June 24th and will be or are at R3 stage (Beginning pod) this week. Wheat harvest is so close you can almost taste the anticipation.
In keeping with the patriotic theme of the July 4th holiday we thought the title of this week's blog and our amendment to the end brings this time of year and the topic of this blog together nicely. The topic you ask? Data and the transmission of it.
For the first time ever we were able to wirelessly transmit data to and from the computer display in the tractor cab via cellular connection. To the average Joe in the context of the big picture this does not sound novel or innovative, but to us in the agricultural technology microcosm, it's a huge deal. To us it compares to the introduction of smart phones and tablets to cellular communication.
Why is mobile communication so important on the farm? It has to do with the multiple collection sites data is being stored. Each tractor, sprayer, combine has its own computer display in the cab. The information collected in these displays are stuck there until downloaded to a thumb drive. This is the same for importing information into the display in the cab such as setup data and product prescriptions, thumb drives are used to manually move data from the office computer to display in cab.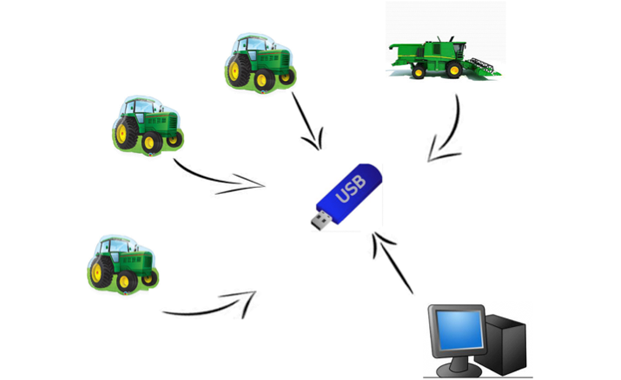 With each piece of equipment having its own display the handling and movement of data has become a whole new job position on the farm or service provided by a third party vender. The "new" to farming capability of transmitting data wirelessly between equipment display and office changes the dynamics of data exchange on the farm . In our next blog we will talk about the kind of data being transmitted, who can see it and what freedom of data… I mean mobile data, means to productivity on the farm.
Until next time!